As stated in their Spotify bio, FRND CRCL (pronounced "Friend Circle") is the "pop" in pop punk. Formed out of Vineland, NJ, the band has been making waves recently following their recent tour with Goalkeeper and joining Vinnie Fiorello's (Less Than Jake) record label, Lost Music Collective. FRND CRCL incorporates a multitude of influences into their music, ranging from classic pop-punk titans such as Green Day and blink-182 to hip-hop and electronic styles in order to bring a fresh sound to a genre that can often seem homogeneous.
The band consists of Adam Skirvin, bassist and co-vocalist, Aaron Smith on the drums, Dom Giacalone on lead guitar, and Zac Johnson, the rhythm guitarist, main songwriter, and other half of the vocal duo within the band. This week, we were lucky enough to sit down with Zac and talk about their recent experiences as well as the future of FRND CRCL. And what a bright future it looks to be: The band has a new single called "LIFEOFTHEPARTY" coming out on February 4, and they are going on a short-run tour at the end of February. This time they'll be hitting up Baltimore, MD (2/25), Fredericksburg, VA (2/26), and Charlotte, NC (2/27), so make sure you snag tickets!
Read on past the embed to see everything Zac Johnson had to say.
View this post on Instagram
The first thing I want to talk about is your live show, because when I saw you live in Jersey, I was blown away. One thing that really stuck out to me were the contributions that Adam and Dom bring to the table. They did some really complicated things on their instruments, such as tapping on the bass as well as pulling off some truly crazy guitar solos. That was really cool to see, as it's not common in most bands of the genre.
They're both extremely technical. It's far beyond what I could ever do. They will improvise in practice a lot too. It's so funny because they bounce off each other effortlessly. You'll look over to see Dom looking at Adam and they're just cracking up and going at it and I'm like, "Dude, what is going on? I can't even comprehend that. Is that a barre chord?"
Do you think some of the new music that you guys are working on is a little more technically complicated? Is it different from Internet Noise [FRND CRCL's 2020 record] in that sense?
I would say the song we're about to put out, "LIFEOFTHEPARTY", is weird. It's simple. My stuff is pretty simple. But just like in our live shows, everything Dom does [on the song] is crazy—the effects he puts on his guitar, the solo, everything. I would say that Adam is very technically skilled, but he doesn't try to do too much crazy stuff on the record because he doesn't want to be distracting. So a lot of the time he'll write this convoluted bassline and he'll always say, "I'm not done yet. I need to make it simpler and chill out a little bit." He'll do a lot of different things before it gets to where it needs to go. But like you were saying, they definitely go off the hinge sometimes in live settings.
During the writing process for Internet Noise, you wrote most of the lyrics, right? So has that shifted with the new music at all? Are you writing the songs together, or are you still bringing the foundation of the song to the band?
I write all of the lyrics, so I'm still bringing the foundation. Every now and then, I'll ask Adam [for help] because I'm struggling with a line. It's kind of an inside joke with the band that Adam has this one-line lyric that he finishes so quick, meanwhile I'm just sitting and pouring over it. I can't figure out what fucking word should go here, and he'll be like, "What if it's this?" Then I'll say, "Duh! That should have been there from the get-go!". I'm waiting for that moment to pop up with the new music we're working on now. It's going to happen, as it's happened with every project we've done so far.
So with the announcement of "LIFEOFTHEPARTY", you said the song is about being an introvert in a party setting. Could you tell us a little bit about that? Is this from your personal experience?
Oh, definitely. I've found myself in many functions and just like, "What the fuck?" I'm also probably really stoned during these times so I catch myself in my head a lot. But I try to think back to those experiences when I'm writing it, and see if it clicks. Sometimes I'll think of a setting and I kind of go around what I was maybe feeling at the time and delve into that. It's funny because I listened to the song and I was like, "Oh, that's totally what this is about." Sometimes I'll write and not think about it until after I've listened to it 100 times. It's kind of weird.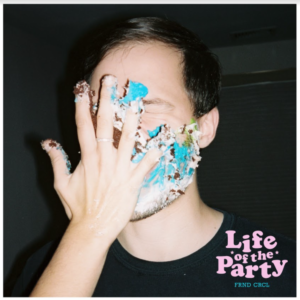 Actually I've heard a lot of great artists say something similar when it comes to their song meanings. Would you say a lot of your lyrics are sort of retrospective in nature, where you think back on a situation that happened six months ago, or a year ago, or whatever?
I'd say a portion of it is like that, and then there are times where I'll write something and I won't even understand why. Then later on I might look back and say, "You know, it's probably relevant to this situation when I went here," or something like that. Then there are also times when I feel like I just make shit up and then think maybe I just haven't understood it for myself yet.
Switching gears – so what has your experience been like joining Lost Music Collective and playing shows with Goalkeeper?
Well, I'll start with the tour. That was so much fun. We as a band are super thankful to the guys in Goalkeeper, especially because they showed us the ropes on how to tour on the road and deal with the issues that come with touring. There are stresses, and we had a lot of tests while we were on the road. We had a gig get canceled on us last minute and then luckily, Marc Juliano (guitarist of Goalkeeper), being the music industry-savvy guy that he is, worked with the label on solving that problem. We got a venue set up right after that. So when it comes to touring and some of the difficulties you might not expect to run into, they helped us out a lot.
As far as the label goes, they're great dudes. I love talking with Vinnie Fiorello and Erick Droegmoeller. At the start of the pandemic, they helped coach us. The entire label would have these chats with us where they were like, "Alright, this is what you guys need to do, because nobody knows when shows are gonna happen. We don't know if this is gonna last a month or this is gonna last for…" As of now it's been what, almost two years? Things are just now starting to pick up but then they also get shut down again. It's such a weird time we're in. But they've been very helpful.
Yeah, you really never know what to expect right now. Your tour with Goalkeeper was the first "real tour" or big tour that you've had as a band. What advice would you give bands just now getting their feet wet? What did you learn during this time?
I would say the one thing I learned is make sure you do your homework. Find venues and don't be afraid. Don't be scared to send out a few extra emails if you have to. I think the main thing, especially in this industry, is you're gonna get rejected or turned down at some point. And maybe in the past, if I reached out to somebody and they didn't want to do anything or they couldn't, I would have just written them off like, "Okay, well, I tried that and it didn't work out." But you can't really be doing that yourself. You just have to keep putting yourself out there and see who bites the metaphorical line, so to speak.
Yes, persistence is key. A lack of an email response doesn't necessarily mean rejection. Speaking of the Internet, has your relationship with social media and the Internet changed at all since you dropped Internet Noise? I noticed you guys post a lot more often now than back then.
Yeah, it's kind of funny because the whole theme of Internet Noise was almost like a reluctance to abide by the rules of social media. We're like, "Man, it's crazy how the Internet's taken over everyone's lives." But you know, that's just the way it is now, and so you'll even see us doing TikToks now. We were super reluctant but we felt we really didn't really have a choice anymore. So we might as well do it and try to be good at it, rather than just ignoring it. Not to say you need it, because there are plenty of artists that are not on it and still successful, but I think there is a lot of opportunity there. And if there is, then why not, you know?
Absolutely. How has the response been to your latest singles, "Complications" and "Quitters," and how do you feel about those songs?
I think the response to "Complications" has been great. That's probably the biggest song that we put out of this new batch. I don't know; we'll see how "LIFEOFTHEPARTY" does, but I think we're all pretty happy regardless. When we wrote "Complications" we all kind of knew that it was going to be the song that would become the biggest. It's also been the easiest to push. There's something about it that just allows for it to fit into a lot of molds for social media posts. [As for] "Quitters", I think we're still trying to figure that one out. I love the song itself, but I would say "Complications" is definitely the one that's doing the best. I think it's the one that the bandl likes the most right now in general. We'll see how "LIFEOFTHEPARTY" does, though. I don't know—sometimes it's hard to tell.
To your point about "Quitters," it is a good song. I like the meaning that the music video gave the song, it was really funny and relatable. Everyone's had that shitty manager before that wants their employees to work late and put in overtime even though they don't themselves. Do you have new songs planned? Or is there more that we can expect down the line from FRND CRCL?
Yeah, I don't stop writing music just because we're putting stuff out. I try to always have something ready to go. But yeah, I would say I want to put out more music. And I guess by that I mean that I want to put out a lot more music a lot more frequently. So hopefully at some point this year… Fingers crossed, we can do something by the summer. We're kind of balancing everything right now between doing "LIFEOFTHEPARTY" and deciding like, what's the next thing coming up?
So in that balancing act, are you also looking at planning shows in the future as well?
Well, we're gonna try to do a short run very soon. And then, as far as shows go, I'm not entirely sure. We might just be kind of focusing on releasing music 'till the end of the year. But a couple of bands are reaching out like, "Hey, we want to possibly do something on this day." And I'm like, "Yeah, that sounds awesome." But we're just trying to realistically figure out our schedule and the logistics of everything. With how COVID has been playing out, there are a lot of variables going into it, but it seems like the rest of the industry is just kind of going full steam ahead.
If there was one thing that you could tell someone about "LIFEOFTHEPARTY" and what to expect with that song, what would you say? Give us your elevator pitch.
I would say it's a good workout song. It gets you high. Everyone in the band has a different perspective on it. Aaron (drums) says it reminds him of that feeling you get when somebody scores at a soccer game and you're at a bar seeing it happen. I can kind of feel that energy because it's such a hype song, so I would say that too. But also, if you listen to it lyrically, it's almost ironic. It's a hype instrumental but the lyrics make you think, "Damn is this dude okay?"
When I heard one of the TikToks you did for the song, it sounds a little heavy. It seems like it's got some sing-a-long sort of moments too.
Yeah, we actually made another TikTok with our good friend Kat. We haven't posted it yet—we're waiting—but it's us showing her the song and getting her natural reaction to it. When she was listening to it, she was like, "If you guys didn't tell me that it was you, I wouldn't have thought it was your band." I don't know if that's good or not, but we'll see.
Personally I think it's cool when a band is able to show off a different flavor. You've proven with "Complications" that you can write those songs that feel like a natural evolution of Internet Noise, so why not experiment? And prior to "Complications" you re-did an older song, "Joyride." What that experience was like?
Yeah, it was the guy who recorded and produced us, Tyler Skye, that made the suggestion. At the time, he was listening to our first album while he was mixing Internet Noise. So he was listening to the song and said, "It seems like you guys should redo 'Joyride.' It's got potential, we just need to change up some of this stuff on the production level." So, we started messing around with the idea and we were like, "Okay, this could actually be really cool." It also provided more content for us to push out after dropping the album, which is exactly what we ended up doing.
It was a lot of fun to do, and it wasn't as serious as doing a whole album. The album wasn't overly stressful, but there were definitely points when we were kind of stressed about doing it. I think that's just the natural ebb and flow of making a piece of art, you know? Highs and lows, and maybe some opinions criss-cross and so we're all trying to figure out what to do. It seemed that with Joyride 2.0, we just kind of let it happen. We weren't too nitpicky over certain things. So that was cool.
That's awesome. So speaking on how making an album can be pretty stressful—and considering that you guys have already released two albums, Immuniversity and Internet Noise—are you moving more toward a singles and EPs kind of lifestyle, or are you working toward album three?
Right now we're just working on a few songs at a time. I think eventually we could put them together into an album. We just need to see how everything fits together. But there are a lot of variables with that too. You've gotta have the money for an album—there's just a lot more to that. If you're gonna go to a studio and spend a whole month on an album then that's something to consider. Whereas, if it's a single, or if we play the singles game, it's like, "Okay, maybe we can go to the studio for a couple days here and do a song or two. Then a couple months down the road once we recuperate a little more financially, we can go back and do [more]". So, I think right now we're going to try to do the singles game. But if we can put everything together into an album, I wouldn't write off the idea completely.
What's your favorite aspect about being in FRND CRCL? What brings you the most catharsis—playing shows, writing songs, something else? What keeps you invested?
I noticed recently every now and then on TikTok, you'll get some guy or girl commenting and saying things like, "Oh, this takes me back to my college days." That's been super cool for me. It seems like a lot of people, maybe around my age or a little older, are always like, "Man this sounds like the music I liked when I was younger."
I like that we can tap into that kind of old school feel. I would say just hearing people's feedback and those organic reactions is super rewarding. That's what keeps me going as far as encouraging me to keep creating, because people genuinely are starting to get attached to it. And yeah, I just like the whole process too. So you know, whether it's booking shows or doing merch or something like that—I love being a part of that. It's definitely one of my passions.
You can hear FRND CRCL's latest singles below. Be sure to pre-save "LIFEOFTHEPARTY" before it's released on February 4th.
Ever since the day he discovered Sum 41 and realized this was "his music", Dustin embarked on a journey of auditory exploration, never once thinking to look back. As a songwriter himself, and someone who believes in celebrating art rather than tearing it down in the vein of the common critic, Dustin hopes to bring a unique perspective to a scene that could benefit from a bit of positivity.