Throughout the years there have been hundreds of movies depicting the lifestyle and feeling of rock and roll. Some are classics that we've all seen, others are indie films that didn't get enough recognition—but they all share one thing in common. These movies pull the spirit of rock and roll out of music venues and concert halls across the decades and drag them onto the silver screen for all to see and connect with.
Of course a full comprehensive list of all of these movies would be unreasonably long and no one would have the time to write it, let alone read through the list of all the amazing movies that encompass the world of rock and roll. I have chosen, instead, a few of my favorites that embody the heart and soul that is rock music through the ages.
1955 –
Nowhere Boy
"Why couldn't God make me Elvis?"
"'Cause he was saving you for John Lennon!"
Released in 2009, Nowhere Boy is a biopic directed by Sam Taylor-Wood that follows the early years of John Lennon (Aaron Johnson). We follow along with Lennon while living with his aunt Mimi (Kristin Scott Thomas) in Liverpool. After meeting his mother, Julia (Anne-Marie Duff), John falls in love with rock and roll and learns to play the banjo. His aunt eventually buys him a guitar and we follow the future rock star as he starts his first band, The Quarrymen. He meets Paul McCartney (Thomas Brodie-Sangster) on this journey and the genius composing team is born. This movie, while some people critique the cast as not being a good fit because they don't outwardly resemble The Beatles members, the casting and acting embodies the spirit of the rock group.
1962 – American Graffiti
"Somebody wants me. Somebody who's out there, roaming the streets wants me… Would you turn the corner?"
Where were you in 1962? If you're like me, you weren't even born. Hell, my parents weren't even born yet, but that doesn't mean I don't have a thing for the culture. Directed by George Lucas in 1973, American Graffiti is a coming-of-age story and, while not directly depicting a band of any sort, the film embodies the spirit of rock and roll and cruising culture of the 1960s. Following the events of several teenagers on the last night of summer vacation in 1962, this movie is a classic and deserves to be remembered as one of the greats. The teens adventure, pick up new friends and explore the city in their classic cars, all leading to the race at Paradise Road. This culturally significant picture, with its star-studded cast, is worth watching over and over again.
1964 – That Thing You Do
"You know, Horace was right about you, Guy; you are the smart one. Lenny is the fool, Jimmy is the… Talent, and Faye is… Well, now, Faye is special, isn't she? And you are the smart one. That's what I think anyway."
That Thing You Do, titled after the song written by The Wonders, the fictional band portrayed in the movie, follows the story of a one-hit-wonder band in the 60s. Guy Patterson (Tom Everett Scott) is an aspiring jazz drummer working in his family's appliance store in Erie, Pennsylvania. Jimmy Mattingly (Johnathon Schaech) and Lenny Haise (Steve Zahn) ask him to perform at a talent show with their band when their regular drummer breaks his arm. At the talent show, Guy changes the tempo of their song "That Thing You Do" and launches them into a whirlwind of fame that you simply have to see to appreciate. A love story disguised as a band picture, this movie became an instant favorite of mine.
Just an extra fun fact for this one, the bass player doesn't actually have a name in this movie, they never say his name and the actor, Ethan Embry, is billed as "T.B. Player" in the credits.
1965 – The Doors
"Where's your will to be weird, man?"
Another biopic that deserves to be noted is this one that follows Jim Morrison (Val Kilmer), lead singer of The Doors. "American Poet," "Erotic Politician," "Dionysus," "The Lizard King," whatever you choose to call him, Jim Morrison is a God among men in the world of rock and roll. This 1991 film casts light on the life of the musician and poet in an alluring light that brings life to the screen.
While obviously not everything in this film is perfectly accurate, it gives you a look into the mind of a man who was somewhat strange and mysterious. There are a few interesting things depicted here that actually happened, however. For example, Morrison really did sing the line, "Girl, we couldn't get much higher," on The Ed Sullivan Show, although it wasn't really emphasized the way that they did in the movie. Altogether, this film takes an interesting look at the legend that is Jim Morrison. Whether it be fact or myth, it makes for a very good movie.
1960s – Eddie and the Cruisers
"Hey man, you got some fine college here, all the advantages. Ivy walls, lecture halls, full dress balls, and you got The Cruisers for the nasty stuff."
This movie is one of my all time favorites. Released in 1989, it follows a reporter who is investigating the disappearance of cult rock star, Eddie Wilson (Michael Paré) . In 1964, the frontman of fictional band, The Cruisers, had it all. After recruiting Frank "Wordman" Ridgeway (Tom Berenger) to be the band's keyboard player and lyricist, the bands' first album, Tender Years, hits it big. But when they start recording their second album, Season in Hell, the dream turns into a nightmare. Eddie's car crashes and his body is never found. 18 years later, the band members relive the experiences and wonder what has become of their friend, whether he is really dead or not. This film depicts many heavy subjects over the course of its 95 minute runtime, including overdose, depression and darkness. A band before their time.
1979 – Footloose
"But we did dance. We danced our asses off."
The music is on Ren McCormack's (Kevin Bacon) side when he moves to the small town of Beaumont, where dancing and rock music has been banned within the town. An instant classic on it's release in 1984, the drama directed by Herbert Ross is a masterpiece of late 70s culture and is full of momentous songs that deserves our attention even today. Ren goes to battle with the town in order to organize a prom to teach the people of Beaumont that dancing and music are not a sin.
1984 – This is Spinal Tap
"Why don't you make ten a little louder? Make that the top number and make that a little louder?"
"These go to eleven."
This mockumentary released in 1984 depicts fictional English heavy metal band, Spinal Tap, "one of England's loudest bands". Filmmaker Martin Di Bergi (Rob Reiner) creates a documentary of the band and what follows is a ridiculous feature full of jokes of rotating drummers that died in mysterious circumstances such as spontaneous human combustion and a bizarre gardening accident. The quotes in this film alone make it a necessity on any list that describes the best movies of rock and roll.
1985 – The Dirt
"When Tommy sits behind his drums, Nikki picks up his bass, and Mars plugs in his guitar, something happens, man."
Yet another biopic added to the list, this Netflix film released in 2019 is an instant classic. It follows Nikki Sixx (Douglas Booth) and Tommy Lee (Machine Gun Kelly) as they audition Mick Mars (Iwan Rheon) and recruit Vince Neil (Daniel Webber) to form Mötley Crüe. We follow the Crüe from their first rehearsal to stardom, through tragedy, drug abuse and heartache. Mötley Crüe played their final show on New Year's Eve 2015 and is still one of the greats, which is why this movie deserves a good hard look.
1992 – Wayne's World
"If you're gonna spew, spew into this."
If you're like me, you probably have seen a few movies in your life that sort of shaped you into the person that you are. This would be one of those movies for me, having been watching it since I was a kid. In fact, my brother and I have inside jokes that came from the special features of the DVD release. You'll laugh, you'll cry, you'll hurl. Rock fans Wayne Campbell (Mike Myers) and Garth Algar (Dana Carvey) host their public-access television show. While avoiding Wayne's ex-girlfriend, Stacy (Lara Flynn Boyle), as he falls for Cassandra (Tia Carrere), they get a deal to launch their show on television, not from Wayne's parents' basement. A hilarious and winding road of rock and roll and love and heartbreak, this is one for the history books.
2003 – School of Rock
"God of Rock, thank you for this chance to kick ass. We are your humble servants. Please give us the power to blow people's minds with our high voltage rock. In your name we pray, Amen."
This 2003 film follows Dewey Finn (Jack Black), who is kicked out of his rock band and threatened by his roommate's girlfriend (Sarah Silverman) to be evicted from his apartment if he can't come up with the rent. Rather than move out of his apartment, he sets up a ruse and assumes the identity of roommate, Ned Schneebly (Mike White), to be a substitute teacher at Horace Green Preparatory School. When he hears the students in music class, he recruits the gang of kids to perform in a rock band for Battle of the Bands and teaches them to be themselves and "stick it to the man" like the greats of rock and roll. This feel good movie is one that will forever be in my heart.
2008 – Nick & Norah's Infinite Playlist
"Are you sad that we missed it?"
"We didn't miss it. This is it."
The straight bass player in a queercore band, Nick O'Leary (Michael Cera) is heartbroken after a breakup with his girlfriend, Tris (Alexis Dziena). He goes to play a show where Norah Silverberg (Kat Dennings) asks him to pretend to be her boyfriend after Tris teases her about not having anyone. The story launches into the search to find where an indie band, Where's Fluffy?, will be performing that night. A hilarious adventure across New York City in Nick's yellow Yugo brings out the spirit of rock music and the people that are around it and influenced by it every day.
2010 – Scott Pilgrim vs. The World
"We are Sex Bob-Omb and we're here to watch Scott Pilgrim kick your teeth in!"
I don't know what it is about the 2000s and Michael Cera that scream "rock and roll," but he does it again in this 2010 action-comedy. Scott Pilgrim (Michael Cera) is the bassist for indie garage band Sex Bob-Omb. He's dating Knives Chau (Ellen Wong) to the horror of his friends and roommate, while also pursuing Ramona Flowers (Mary Elizabeth Winstead). In his quest to date Ramona, he must defeat her seven evil exes and fight Nega-Scott, his alter ego, while Sex Bomb-Omb plays in the background. This is a wild film that left me and my best friend, Levi, sitting in the theater as the credits rolled for several minutes as we questioned what we'd just watched. We then proceeded to watch it two more times in the same day.
2019 – Yesterday
"Honestly, I don't know. Sometimes it feels like someone else has written all the songs."
Jack Malik (Himesh Patel) is a singer songwriter who gets hit by a bus during a twelve-second global power outage. After recovering, he discovers that he is the only one who remembers The Beatles. Having issues getting his own music off the ground, he starts passing off The Beatles songs as his own, becoming famous for the songs that shaped a generation of rock and roll as we know it. All the while, he's falling for his friend and manager Ellie Appleton (Lily James) and learning that love might just be more important than the fame that he's worked for his whole life. As a huge Beatles fan, I adore this interesting spin on the way music is heard around the world and what it means to people of all generations.
Did you enjoy this rundown of the 13 best movies about rock and roll? Check out the featured playlist below!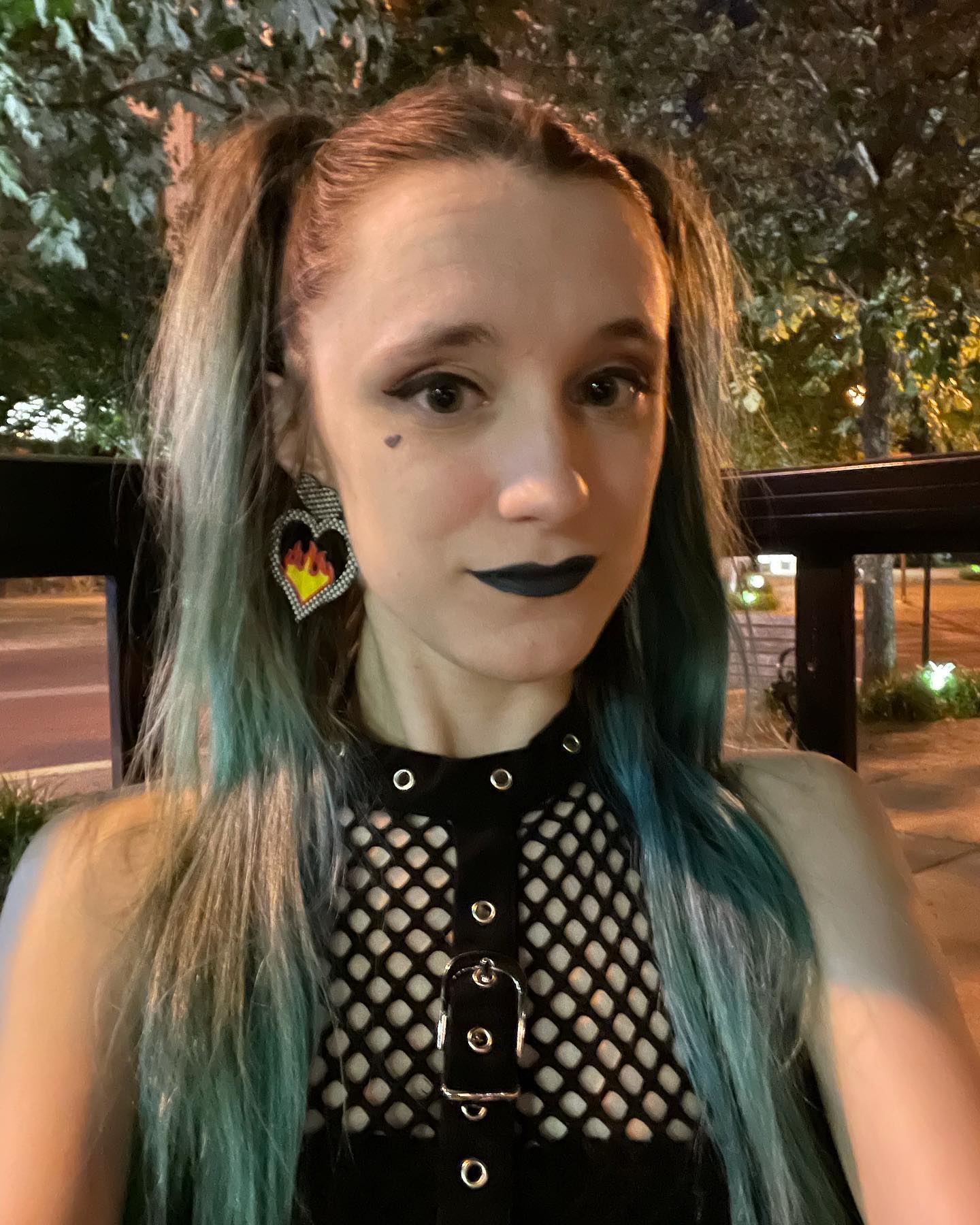 Stormy is an emo kid, through and through, but she listens to a variety of different music genres, nothing is off limits. Former host of a music podcast and a lover of music in general she just likes being in and around the scene finding new friends and adventures. She is also an avid gamer and can most often be found hanging out with her friends on discord.