Like any self-respecting (or is it disrespecting?) goth-wannabe, I've got a bit of an inclination toward the dramatic. Once upon a time, it manifested in jet black eyeliner and meticulous wardrobe styling. But ever since the quarantine routine proved that #aesthetic moments could be effectively restricted to "proof of life" Instagram posts, I've had to rely on external stimuli to scratch that particular itch. You can probably guess what my recent playlists have looked like given that information, and if your suspicions involve AFI and Salem, then you're absolutely right.
This week, though, Upon Your Dead Body dropped a hypnotizing new single to revitalize that circulation—and "You're My Favorite" definitely lives up to its name. A callback to the band's foundations and simultaneously a testament to new growth, the track oozes The Venetia Fair-caliber exuberance and alternative 2000s eclecticism. And while the overall impact may be startling, it's hardly unexpected coming from an artist who has recently been making waves on TikTok with his genre-defying talent (and impeccable sense of humor).
Singer/songwriter Efrain Benavides spoke with All The Alt Things to detail the creative process behind the release. Spoiler alert: there's good reason that it seems to have something for everybody. Take a listen to "You're My Favorite" and read on below the embed for everything that he has to say about it.
It's safe to say that you've made a significant impression on TikTok with your rendition (and assorted parodies) of La Dispute's "Such Small Hands." The stylistic approach on that one felt like a marked sonic divergence for you. By contrast, "You're My Favorite" seems to return to your Selfish & Hollow roots—albeit with a theatrical maturity. Was there any intentionality behind this progression? What went into its development?
I am so incredibly grateful for the fans and friends I have made because of Tiktok and those parodies and covers. I would never have thought I would've gained such a massive following by doing what I love: music and comedy. 
We like to experiment with a lot of genres and styles. It's part of the process of growing as an artist. La Dispute introduced me to a whole new genre of music that I didn't even think to be possible. Since then, I've been fascinated with spoken word. I'm currently working on a new original that will feature a spoken word section.
"You're My Favorite" does go back to those Selfish & Hollow roots, but with more of that theatrical maturity you're speaking of. I believe that's due to recording and writing for four years. It's safe to say I've learned a lot in that time, and I think it shows but I don't really think that was intentional. Selfish & Hollow was recorded in 2017. I was 19 and I'd only been playing the guitar for two years. So, there have definitely been improvements in my songwriting and abilities as a guitarist.
As far as the development of "You're My Favorite" goes, it was honestly a lot of fun. Most of my songs start with a chorus and then I take it from there. [For this one], I wanted to write a rock song with a catchy chorus and I'm really proud of it.
One thing about this single that really grabs me is its widespread and deeply nostalgic eclecticism. Your online audience knows full well your ability to hit the mark on an assortment of genres and this feels like a culmination of that propensity. When you set out to write the track, did you aspire to be genre-bending? Or was that a natural demonstration of your inclinations?
When I write any track, I try not to put myself into a box where I'd think it has to be pop-punk or only rock. I like being able to flow into whatever I'm feeling at the time. When it comes to the catalog of songs we've written so far, I think it shows that we like to dip our toes in multiple genres. Something I like telling myself and others is that when you hear our music, I don't want you to think, "That's emo." Or "That's pop-punk." I want you to think, "Oh, that's Upon Your Dead Body." I'd have to say it's completely natural. Having a drummer that's on board to play all varieties of music is helpful.
Were there any specific artists or alternative music eras that served as inspiration for you during the writing process?
Yes, absolutely! I give all credit to Coheed And Cambria, Muse, Queens Of The Stone Age, Say Anything, and Panic! At The Disco. They absolutely inspired this track. That early-2000s emo, prog, and hard rock spoke to my soul at the time. From the intro to the chorus and the lyrics, the overall vibe of the song is all due to that.
I wanted to tell a small, personal story of the desire for someone who was taken. It weighed heavily on my mind and personal morality. The song is meant to be a taunt toward the lover. It's sort of like a devil on your shoulder stating, "I know I'm what you want and you want to get what you want. I promise you that you're my favorite and we are going to be together." I wanted it to be a driving force with power chords, boomy drums and a focus on lyrics—more rock-oriented than anything. I really took inspiration from that early-2000s sound.
The first listen brought about all the same butterflies I experienced as a pre-teen when I popped my copy of
A Fever You Can't Sweat Out
into the CD player in my mom's minivan. That hooky riff certainly plays a part in the overall charm, but I'd argue that your vocal deliveries are the cornerstone. How did you find a balance in showcasing your (incredible) range in a way that's powerful, but not exaggerated?
I revere that album. Thank you so much. I am deeply honored. I really enjoy singing high in most of my songs and it just comes naturally. But, for "You're My Favorite, it just felt better to sing it the way I did with those little runs in most of the lines. I felt like it was serving the song to have more power chords and a focus on the lyrics. It's exactly what I wanted for this track. I also knew I could've thrown some ridiculously high vocals and screams on it, but it wouldn't have served the song in the best way possible. Robert de la Rosa (drums) and Rudy Industrial's (engineering) input helped. They were there in the studio with me while I was recording, making me laugh. It was such a great vibe.
How do you feel that "You're My Favorite" evolves your larger sonic profile? Were there any specific elements or techniques that you plan to incorporate into future tracks?
I feel it does show maturity in our overall sound and songwriting. Moving forward, I do want to incorporate the drive of that song into more of our music. It makes me bounce and I really like that, but I also really enjoy getting out of my comfort zone when it comes to riffs and songwriting. So, anything goes, really.
On that note, now that you've crossed TikTok fame off the bucket list, what's next for Upon Your Dead Body? Any upcoming releases or maybe a well-deserved break ?
While I do appreciate the following I've gained on TikTok, I wouldn't say it's fame. This is only the beginning. There's so much that we want to do and so much that we're going to do. We currently have a new single and music video I'm working toward releasing next. You're going to be hearing a lot about Upon Your Dead Body in the coming months, I promise you that.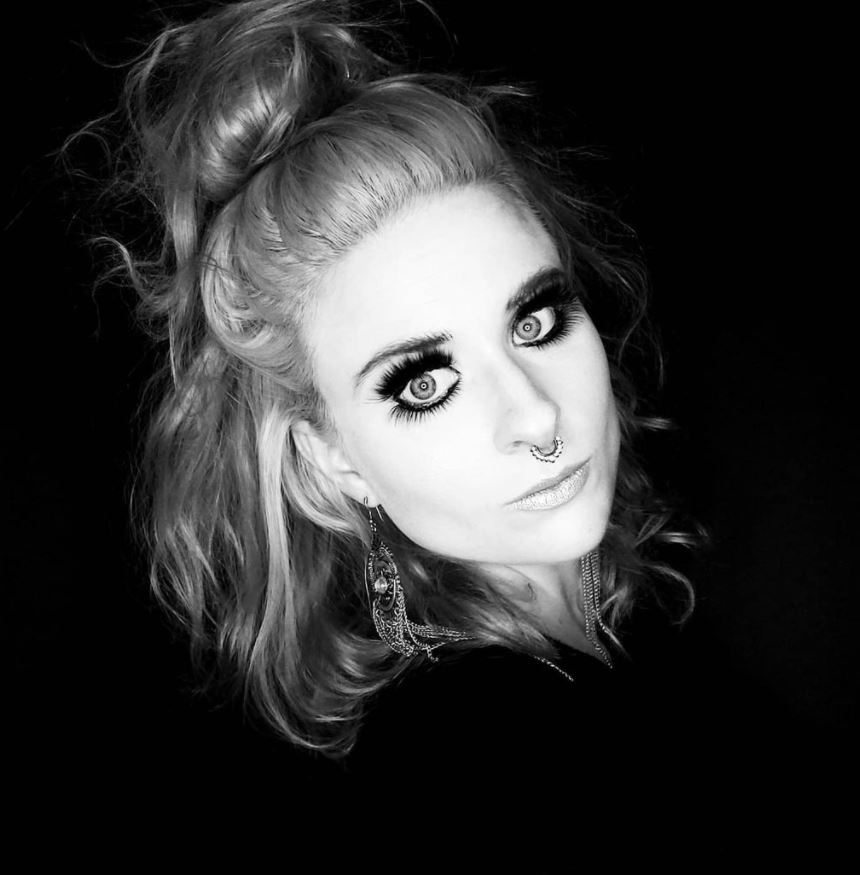 Swimming in an ever-rising sea of 2000s emo nostalgia, music journalist Mala Mortensa only surfaces to dig into the depths of the modern alternative underground. Soundtracked by a neverending Spotify queue, she spends most of her free time perfecting heavy eyeliner looks, chilling with her two insane-o dogs, and anxiously waiting for the next AFI tour.