Remember the days when you so anxiously waited for each new alternative music release with your iTunes gift card clutched in hand? If you don't, you missed out on one hell of a generational experience. Sorry, not sorry.
Nowadays, release anticipation is much less targeted. That's because streaming services are constantly vying for our attention from all angles. There are so many deserving tracks dropped every month that it's impossible to listen to, let alone adequately appreciate, all of them. Luckily for you, there's no need to break your back digging for those gems. I've already poured through feeds and playlists to cherry pick my very favorites from the past month. Listed below are some of the highlights that you might not have had a chance to listen to yet—but you definitely need to.
Buckle up, put on your listening ears and get ready to hear some amazing jams that graced us in January!
"Glass Bones & Paper Skin" – Hometown Losers
Hometown Losers released a single on January 3rd, "Glass Bones & Paper Skin," that gives a melancholy look at sickness and how it feels to face inevitable death. The guitar harmonies are almost dreamy⁠—as if the music itself doesn't recognize the somber, trite tone of the words that are musing toward something so morbid as death and sickness. The lyrics could even be interpreted in a way that relates to mental illness and I find myself connecting to this song on that front.
"Was It Something I Said?" – asking for a friend, DYSN, Lostboycrow
The airy melodies and bouncy lyrics of "Was It Something I Said?" by asking for a friend plays with the likely-familiar feeling of unrequited love. Lethargic vocals paired with the sprightly guitar riffs toy with those associated emotions. Still, it strikes a stunning contrast by being upbeat in a summery way that feels like islands and palm trees.
"Buy American" – Joywave
The first new release to come from Joywave's upcoming album, #Cleanse, is a low-key, serene picture of the status of America as a culture. The lyrics are a brutal poetry about the mindset of the "American Dream" or what, from some perspectives, takes away from what it means to be utterly human. The music itself is breezy and composed, assured of itself as if the satire of the lyrics is a farce. This single takes an interesting look at what has become a let-them-eat-cake state of mind of American culture. Be sure to pre-order your copy of the album for its release on February 11!
"Second Circle" – Deep as Ocean
Reverberating riffs, droning melodies, and chanting vocals throw you into a feeling of despondency in Deep as Ocean's "Second Circle." The title track of their latest EP, which dropped on January 14th, it's a spine tingling addition to their discography. Listening to the tale of being trapped "inside the hell you've made," it's difficult not to empathize. The steady, pulsating drums run deep and fill your chest as the metal onslaught of the guitars rake over.
"Jigsaw" – Conan Gray
Conan Gray does it again with his new single "Jigsaw," which premiered on January 21st. Showcasing bellyaching guitar riffs paired with craving vocals that wish for more, the song itself is an orison to self-doubt. Singing "You take every part of me, all of the things you need then you discard the rest," Gray brings the listener to a likely-familiar, albeit unfortunate, place. Remembering willing to change everything about yourself to make someone else happy hits a melancholic chord, but truly just reminds one never to fall into it again.
"Projector" – Set It Off
An oxymoron in itself, "Projector", sells us a rosy, upbeat melody with an optimistic sound. Then it punches us in the face with brash and pessimistic words that feel all-too-familiar while still maintaining the group's unique wit. This is Set It Off's second single from their upcoming album, Elsewhere (Mar. 11). Along with their first single in this release cycle, "Skeleton", this one has done its job in selling the hype. Don't forget to pre-order your copy of Elsewhere!
"I'll Give You The Stars" – Magnolia Park (ft. Titus & fats'e)
In an utterly pop-punk new song, Magnolia Park returns with an affectionate, romantic melody that we so desperately craved in these long cold months of post-holiday winter. The lyrics are matter-of-fact and doting in a way that almost feels like a poppy lullaby to soothe and calm. Pair that with the melodic guitar licks and hip-hop beats, and you've got a comforting space to feel at home and a new instant classic.
"Like A Villain" – Bad Omens
"It's hard enough being alone with myself," is a line that I could see myself getting tattooed on my body. I connected very deeply with the newest single of Bad Omens' current release cycle for the coming album, THE DEATH OF PEACE OF MIND, set to release on February 25, 2022. An indulgent melancholy sound overwhelms the senses, the music seeming to plead and blame the person the lyrics are directed at. The album is available for pre-order now, be sure to get your copy!
"relapse" – ENVYYOU
The chilled and bitter tone of this new single by ENVYYOU tells a vivid story of devastating heartbreak. Heavy guitar licks bleed into unwavering drum beats as the keening vocals sweep us away into that acidic woe that most of us have become accustomed to in this day in age. Whether you're looking for something to jam to in the car or just need a little bit of angst in your life again, this is definitely one to add to your playlist.
"Decay" – shallows. (ft. Aaron Gillespie)
This sobering new single from shallows featuring Aaron Gillespie is a grave melody with desperate vocals, direct in its approach telling you exactly what it's trying to say. "I only wanted to get this out of my system, I never wanted to need you," they cry out in a frenzied and bold statement with a fresh new voice as well as one that we are intimately familiar with. Side note: this one popped up on my radar due to the Gillespie feature, but now I have another essential artist to stream nonstop!
"Sleeping With You" – Sea Girls
The leaden soul of "Sleeping With You," the new single by Sea Girls, takes us to a moment of trying to move on from a love of the past. The fourth release ahead of HOMESICK, which is set to be released March 25, brings us reticent, almost bashful lulls of melody with forlorn and languished vocals that sear with pain as they sing, "I've got something really good with you but I'll never forget her." Pre-order the album while you still can!
"Burning Heart" – Dashboard Confessional
Chris Carrabba knows how to make a great emo tune and he's proved it again and again. Dashboard Confessional has once again demonstrated his legendary skills with the bleating vocals and grieving acoustic rhythm of this new single. It's hard not to relate to the feeling of a taxing relationship that you want to work out so desperately. This is the second single for All The Truth That I Can Tell, Dashboard's new album due out February 25th. The pre-order is available now!
"BETTER" – Royal & The Serpent
Track one of the recently released EP, IF I DIED WOULD ANYONE CARE, Royal & The Serpent gives us a rueful and sullen look at the inner thoughts of someone struggling to be better and the utter devastation in realizing that you can't, but then still trying anyway. "Been on this hamster wheel for the last four years and I'm f**king tired," she weeps. It is a raw and choleric take on what it feels like to live with mental illness.
What were your favorite releases from the last month? Send us an email or drop a comment on our Instagram to let us know!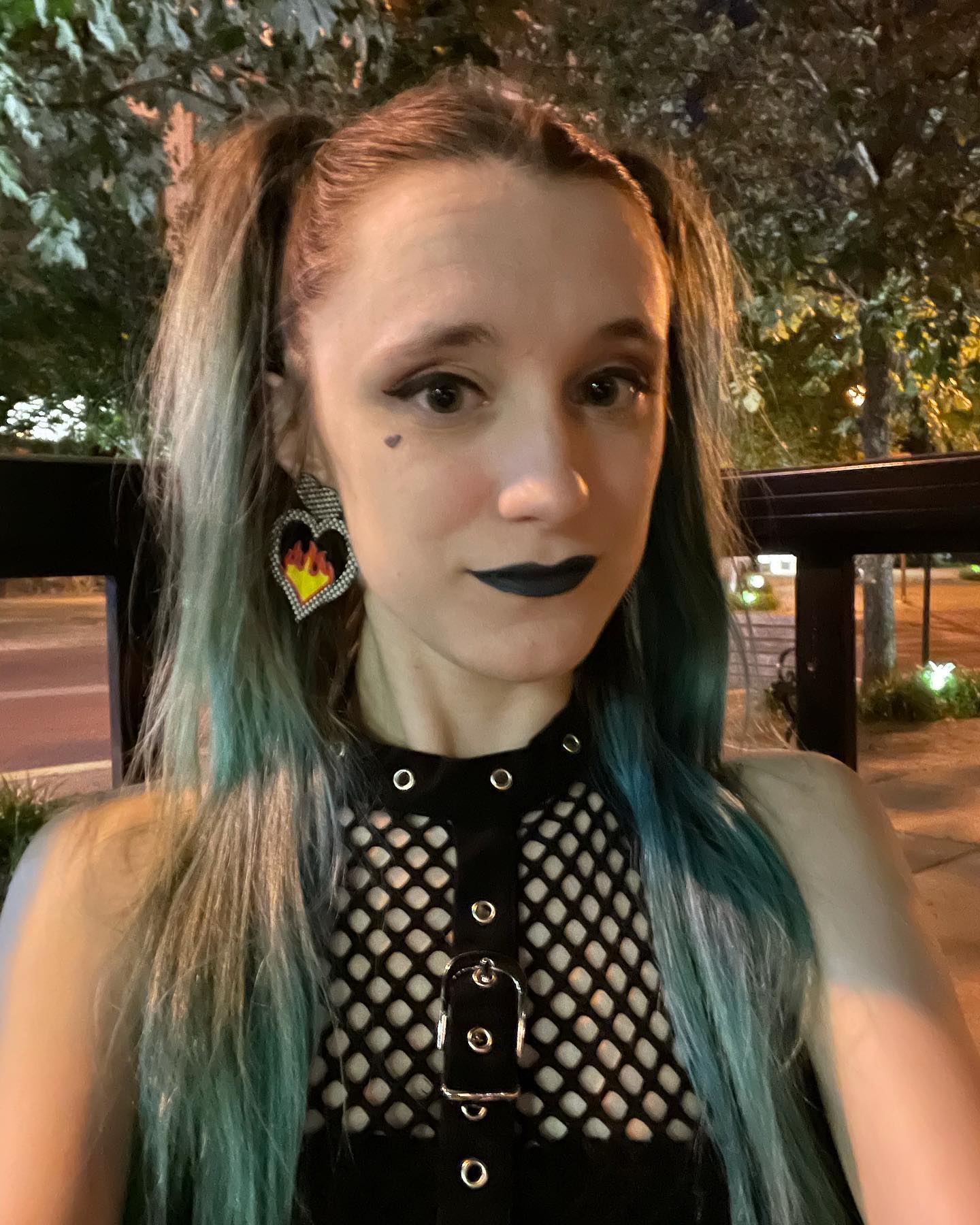 Stormy is an emo kid, through and through, but she listens to a variety of different music genres, nothing is off limits. Former host of a music podcast and a lover of music in general she just likes being in and around the scene finding new friends and adventures. She is also an avid gamer and can most often be found hanging out with her friends on discord.