Bloom's emotive, powerful music and lyrics put them on my radar when they initially debuted back in 2017 with their first single "Cold." Hailing from Sydney, Australia, the band has been making a huge name for themselves in their local music scene and beyond with the release of their 2020 sophomore EP In Passing. Fast forward a couple of years, and Bloom have now begun a new era of their music with their latest single, "Sink Into The Soil."
Bloom is comprised of Jono Hawkey (vocals), Jarod McLaren (guitar/vocals), Oliver Butler (guitar), Jack Van Vliet (drums), and Andrew Martin (bass). The quintest have been doing quite a lot of shows in support of In Passing and have quite a big year ahead of them. I recently got the chance to chat with Hawkey and McLaren about what the band has been up to as of late.
You recently dropped a new song, "Sink Into The Soil." Lyrically, what is that track about? 
HAWKEY: "Sink into The Soil" is written about the feeling of being stuck. Whether it's [due to] your own mental stuff or the world around you, you're in a position where so much feels out of your control and you feel stuck, like you're sinking. It also speaks to that thing you tell yourself growing up,  "Everything one day will be fine. I can't worry about things, I can sort of push things down." It's also coming to the realization, as time has passed, that you haven't done anything to proactively change your situation, things have gotten progressively worse, and accepting it—sitting and sinking into that sort of feeling, per se.
McLAREN: I personally really like the "harkening back to growing up" part of it. It's not something that's just happening to us now. It's [happened] ever since you were young and didn't really get better.  [Hawkey] really wrapped it up well.
You've released two EPs prior to this. Would you say your influences have changed throughout the years, especially with more recent material like this song? 
McLAREN: Yeah, I think it's getting heavier as opposed to our old stuff. I'd say we were mostly influenced, when we first started out, by Touché Amoré and Casey. [We were] on the lighter end of the hardcore spectrum. Whereas now, we're listening to a lot more Counterparts, which I think is evident in the song. We're a lot more metalcore and hardcore-inspired. Obviously, Counterparts is the main one, but even Polaris [are an influence]. They're quite different, but we're taking inspiration from how they write songs structurally. The big choruses with the cleans and stuff [are] a massive focus for us moving forward.
HAWKEY: I think as we've played shows, the times we've had the most fun are the heaviest sections and the stuff people really get into. Our writing has definitely been dictated by that as well. We love playing the parts people go crazy for, so we want to write more [of those].
This track was produced by Christopher Vernon (Belle Haven/Better Half), who you also worked with on In Passing. What was it like working with him this time around? Was there anything you learned during either of your experiences recording with him? 
HAWKEY: This one was completely different for us. We've always tracked and done the whole writing session in-person in his studio in Melbourne. With COVID restrictions and not being able to cross states, we did the entire "Sink Into The Soil" process remotely. Essentially, we used Discord. We had audio being sent from an interface on our end to his and it dragged out the process a lot longer. When we've done singles with him in the past, it's been a two to three-day process. This stretched out over five or six weekends just because the process is a lot slower. 
There are a lot more hiccups and things that will arise when you're not in the same room with each other. So, it was definitely a harder process. But we felt like we had to do it and we couldn't keep pushing it back. We had dates locked in to record in Melbourne in-person from the start of January 2021, and that didn't end up happening. We didn't accept our cards and decide to record it remotely until September. There was a lot of waiting for restrictions to ease, and we eventually just bit the bullet and did it remotely. Overall, we're happy with how it turned out, but I don't think it's something we'd want to do again.
McLAREN: [We were] making the best of a bad situation. It worked, and we're still really happy with the final product. It was still good working with Chris. But being able to go to Melbourne properly and be in his studio space is so much better.
HAWKEY: We recorded "Sink Into The Soil" in this room. We hung clothes on a fucking clothing rack to make it a vocal booth. There's five hot, sweaty dudes in this room.
Now I'm kind of curious, what was it like recording that virtually? What did you guys do to get it to work, especially over a Discord call?
HAWKEY: So, all of the members of the band were able to come here. We were able to visit each other's houses. We set this up as the "base," then we hopped on a Discord call with our producer. He would share his screen, we would route our audio. Essentially, [we sent] it with some plugin to his computer so there was very minimal latency or quality loss. It was almost like you had a sixth person there, but they weren't actually there. They were on a screen. We had to talk through a headset and mute the mic whenever we were trying to record something. It was a finicky process.
McLAREN: We made it work.
You've done quite a lot of shows throughout Australia and have some planned for later this year. Are there any songs that have been "crowd favorites" or gotten good reactions from the audiences at your previous shows? 
McLAREN: The big one is always "Cold." It's usually the highlight of most shows. I think it's the one most people know and it's got the big singing hook. There's a lot of interaction there, which has been nice. "June," actually, was a sleeper favorite. I think we found that on the Thornhill run. We weren't really expecting that song to do super well live because it's a bit slower compared to the rest. But I think a lot of people just connected to it. There are some big singalong moments, which is nice for sure.
HAWKEY: I really like playing "The Service" live. It's got a really big buildup section towards the end. As Bloom has gotten larger in size and more people are familiar with our stuff, it always seems to be a really big moment throughout the set. If we're playing a hometown show or in a place with a lot of fans, it's always such a cool one to play. Everyone gets super into it.
Going along with that, what are your favorite tracks to play live and why?
HAWKEY: I love playing "In Passing."
McLAREN: Ooh, "In Passing" is good. It's got some nice little moments. I get to do a cool kick or a punch on-stage and feel good.
HAWKEY: I feel like it kind of encapsulates the Bloom sound to a T for that release. It's got a bunch of really interesting sections. It's a sentimental track. What were you going to say, Jared? What's your go-to song?
McLAREN: I like playing "Daylight." It's just a fun, fast one with a little heavy bit at the end. I think "Sink Into The Soil" will be similar. It's a bit harder to play, so maybe I'll hate playing it. It's got some cool sections, and I think the ending will be a lot of fun. We just need to see how the breakdown goes at UNIFY. Hopefully it's good.
Are you currently working on more music to follow up "Sink Into The Soil?" If so, what can people expect from it? Will your upcoming material sound more like that, more like your previous work, or something different? 
McLAREN: The stuff that we're working on is a bit of both, right? That Counterparts influence is still strong. But we definitely want to have some slower songs and some more anthemic-type stuff—lots of cleans, lots of screams.
HAWKEY: We can't say too much about what the next release is going to look like because it's still being made. But I think it's a really nice encapsulation of the new sound that we're going with in "Sink Into The Soil." It's heavier with bigger choruses and standout sections, but with a lot of the older-style Bloom writing as well. There's more emotive, slower, build up/rise sort of stuff. It's a really nice happy medium, pairing the stuff that we've really liked in our [newer] writing with the traditional or older-school stuff that we've done as well.
You can watch the music video for "Sink Into The Soil" here:
Be sure to catch the band on tour throughout Australia this month and next. See the flyer below for more information: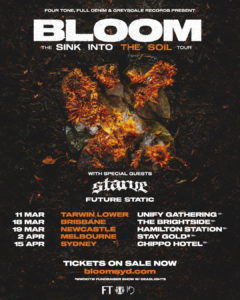 Music has played a major role in my life for as long as I can remember. I've been doing music journalism since 2016 and concert photography and music PR since 2018, and I have a passion for supporting underground and up-and-coming acts. When I'm not in the photo pit or writing about your next favorite band, you can usually find me reading a book or playing a video game.